<! This is the TABLE containing the BUTTONS with Photo backgrounds >
The Flood in Jeddah, Saudi Arabia.. November 25, 2009
There are not words to describe how horrible this tragedy was for many people living in Jeddah and it's outskirts. We who were living at the KAUST campus, 80 Km North near Thuwal, were inconvenienced in many cases. But many of us did not understand the enormity of the disaster in Jeddah. Over 100 people died, and some estimates say there are still hundreds missing. This page is an attempt to collect a perspective on it from many sources.
Later Newspaper Articles (CLICK HERE)
NOTE: Several other videos are linked to on THIS PAGE
The videos linked to here may not be suitable for younger children... This first amateur video from YouTube gives a perspective on the force of water that came rushing down from the hills East of Jeddah, into the Eastern neighborhoods. Some of these vehicles had families in them. (Use the start-stop controls)..

The Story, from Arab News, Saudi Gazette and other sources:
(For current news, click on newspapers here: http://www.terryking.us/news/news-middleeast.htm).
After the tragedy comes a deluge of questions. Why was the loss of life and damage so high? Why were "flood control" projects over the last years ineffective or unfinished or "skimmed"?? The King, reported to be furious, has established a task force to find answers. The following sections will link to .PDF files of many newspaper reports, and compilations.
JEDDAH: Custodian of the Two Holy Mosques King Abdullah ordered an inquiry into the causes of the Nov. 25 flash flooding in Jeddah. The commission in charge is set to begin its investigation on Saturday. Following the announcement of the investigation, the municipality denied rumors that many of its employees are banned from traveling outside the Kingdom. (CLICK HERE FOR ARTICLE)
MIDDLE EAST ONLINE: Calls for opening corruption file after Saudi city disaster. Will disaster that hit Saudi Arabia's Red Sea port city of Jeddah be turning point to open corruption and negligence file? (CLICK HERE FOR ARTICLE)
The Beginning of the Story:
ARAB NEWS 26 NOV 2009: Rains claim 24 lives in Jeddah - JEDDAH: At least 24 people were reportedly killed and several injured in flash floods in Jeddah on Wednesday. Hundreds of homes and shops were flooded as streets turned into raging rivers. (CLICK HERE FOR ARTICLE)
OTHER SOURCES:ASHARQ ALAWSAT NEWSPAPER: In the Aftermath of the Jeddah Floods 30/11/2009
Jeddah, Asharq Al-Awsat - The death toll f rom the Jeddah f lood now stands at 98, and this figure is expected to increase further in light of the continuing search and rescue operations being undertaken by Saudi authorities, according to Mecca Civil Defense spokesman Captain Abdullah al Omari. (CLICK HERE FOR ARTICLE)
PHOTOS of Jeddah Area: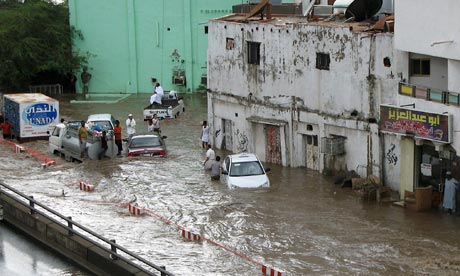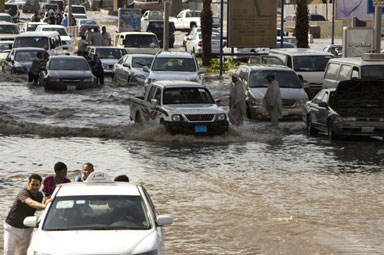 People were rescued by Helicopter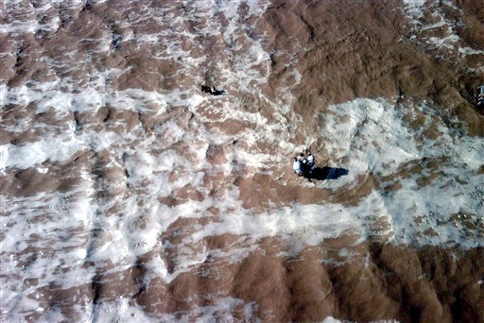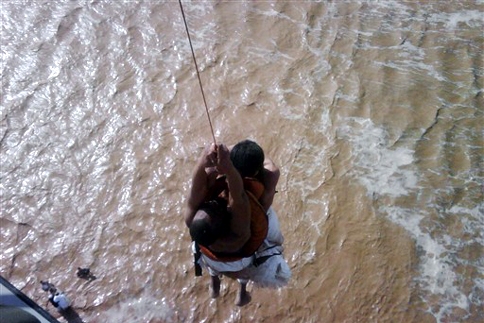 WHAT ABOUT JEDDAH MAKES THIS POSSIBLE??
The terrain of Jeddah is low and flat near the Red Sea / Cornich area, slowly rising towards the East and the Ring Road. Then the land slopes up into the small hills you can see to the East. There are many old "Wadis" (Dry Riverbeds) that lead from the hills into the Eastern areas of Jeddah. Unfortunately many of these areas have been built up with "uncontrolled" and "illegal" neighborhoods, often by poorer people who did their own building. A rain of high intensity sends huge amounts of water into Jeddah, through these Wadis, and through the streets. Supposedly there have been many "flood control" projects funded over the past years, but it is unclear how many were actually done. This was also a "50 year event" where 3.8 inches of rain fell in a few hours, where the usually monthly total is less than 1 inch in November. Here are a few stories and photos:
Deluge devastation stuns Quwaizah JEDDAH: Scenes of utter devastation and destruction lie to
the east of the Haramain Expressway in Quwaizah area of Jeddah. (CLICK HERE FOR ARTICLE)
Rush to clear Harmain ExpresswayJEDDAH: Operations have been going on round the clock to clear
the Harmain Expressway in east Jeddah of hundreds of mangled vehicles destroyed in the Wednesday's devastating flash floods in which at least 106 people drowned. The section of the expressway next to King Abdulaziz University was one of the worst affected areas when the floodwaters swept across from higher grounds to the east. (CLICK HERE FOR ARTICLE)
In the area near the expressway, it looked like this: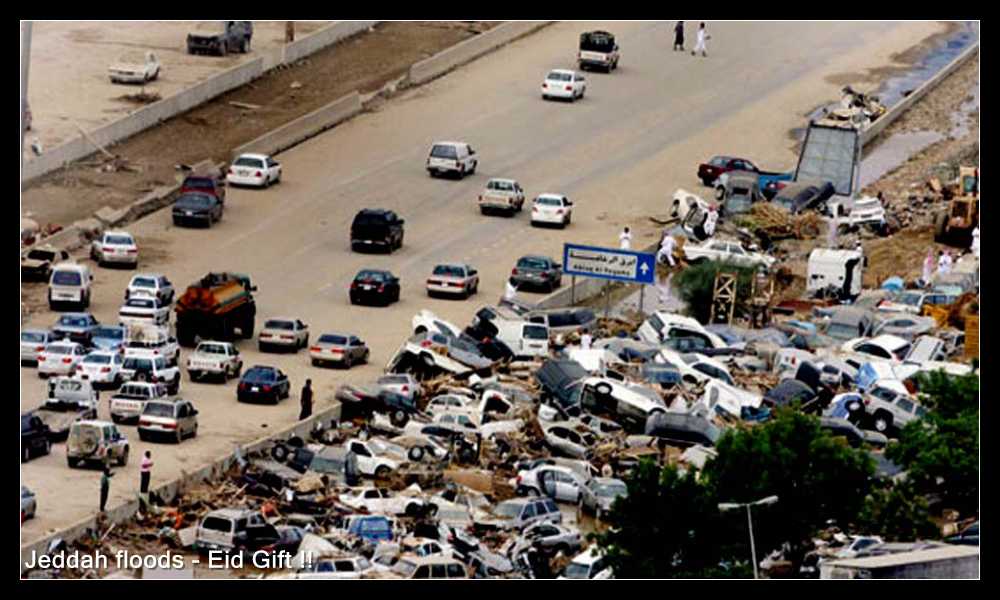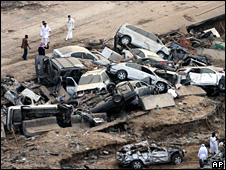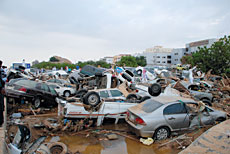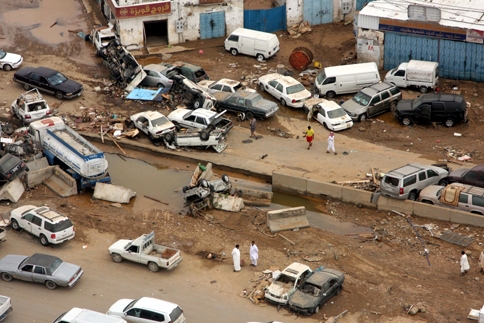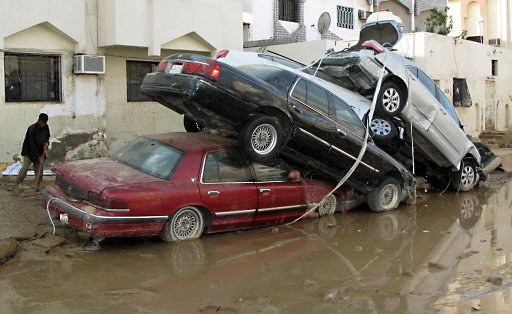 Jeddah flood toll 106 Muhammad Humaidan | Arab News
JEDDAH: The death toll from Wednesday's flash floods here has climbed to 106, Civil Defense officials said on Saturday. More bodies are expected to be recovered as cleanup efforts continue w ith rescue and recovery teams assisted by helicopters. (CLICK HERE FOR ARTICLE)
Here's a strong reaction to a Government Story! (CLICK HERE) SPA makes Jeddawis dance with anger.pdf
-- (Some reports say that people close to the King say he was "furious" at the situation in Jeddah)--
King Abdullah orders probe, compensation
Muhammad Humaidan | Arab News
JEDDAH: Custodian of the Two Holy Mosques King Abdullah ordered an immediate payment of SR1 million to the family of each person who died in last w eek's flood in Jeddah. The king also ordered the setting up of a high-level committee that will be headed by Makkah Gov. Prince Khaled Al-Faisal and w ill consist of representatives of various ministries. The committee will study the extent of the damage due to the calamity. It w ill also study the causes of the crisis and recommend ways to ensure that it does not happen again.
"It is painful that many countries, some w ith even less potential than the Kingdom, experience similar rainfall almost every day, but there are no devastation of the magnitude w e w itnessed in Jeddah and that saddens us," said the king. He also said that those responsible for this tragedy w ould be taken to task."We cannot ignore the fact that there w ere mistakes and failures on the part of some departments and it is our duty to identify those responsible and take action against them." (CLICK HERE FOR ARTICLE)
And now for MORE Bad News: "MUSK" Lake: There is NO sewage treatment plant in Jeddah. Just a huge uphill lake where sewage tankers unload their cargoes. "Uphill?" Do you have a problem with that???
ARAB NEWS: Sewage lake dam safe
Michel Cousins | Arab News
JEDDAH: Fears that the massive earth dam holding the sewage lake (Musk lake) in the hills east of Jeddah might burst and flood the city appear somewhat exaggerated. An Arab News team went to investigate the dam on Tuesday and it appeared there was little to worry about. On Monday, the Civil Defense warned residents in Jeddah's Al-Samr 3 district to evacuate their homes, fearing that the dam might burst. The warning sparked panic among residents elsewhere in eastern areas of the city. (CLICK HERE FOR ARTICLE)
At least, Jeddah seems to have kept it's sense of Humor!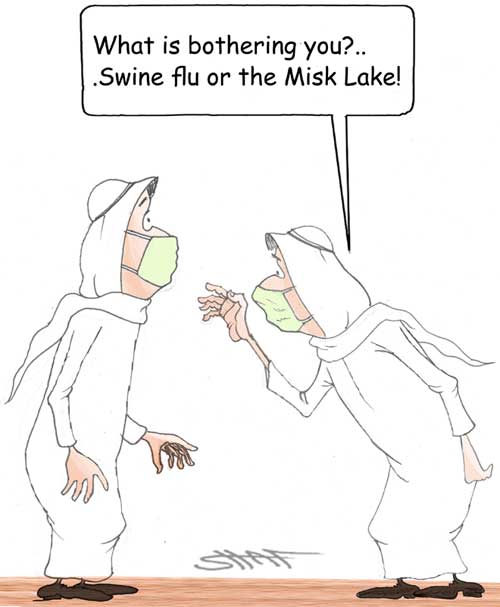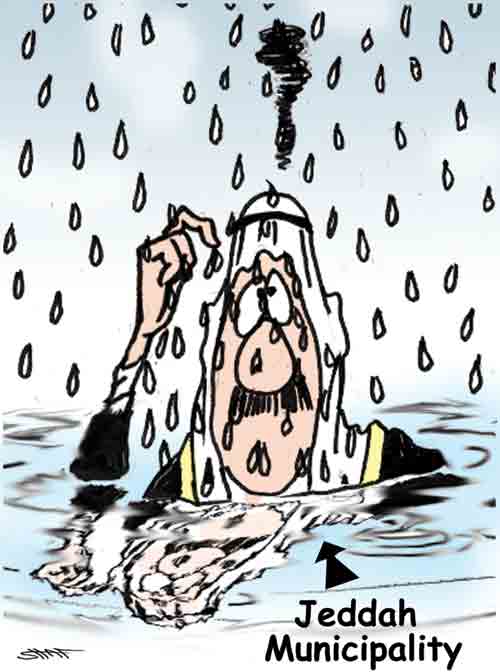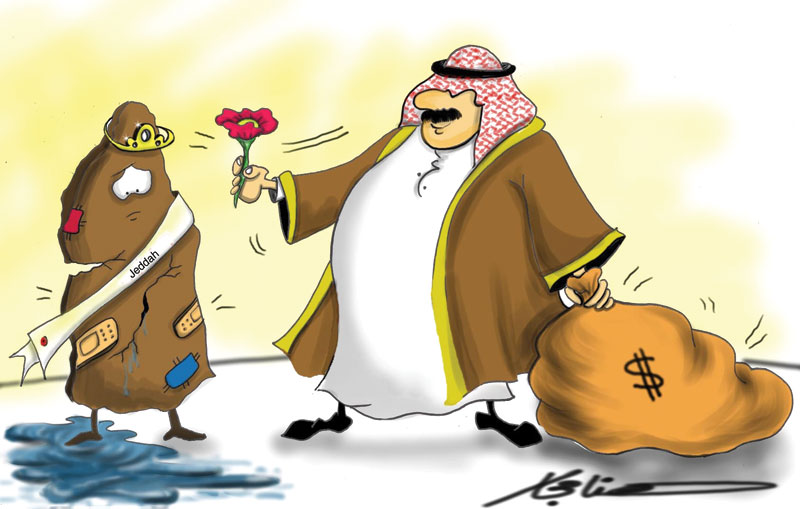 Sigh.. OK, there's MUCH more. It's worthwhile to keep up with the local papers here: http://terryking.us/news/
(See many more MiddleEast sources here: http://www.terryking.us/news/news-middleeast.htm )
Want to donate for flood victims?
FROM SAUDI GAZETTE: JEDDAH – People who wish to make a donation of clothes, food or other goods for the aid of flood victims are requested to take the goods to the Jeddah International Exhibition and Convention Center on Madina Road, said Mazen Battarji, deputy chairman of the Jeddah Chamber of Commerce and Industry (JCCI).
Those who wish to make a cash contribution should deposit the money in the account of Bir Charitable Society at the National Commercial Bank, account number: 13620000001103.
The donation committee is supervised by the secretary-general of JCCI, Mustaf a Sabri, and Faisal Ba-Tawil. The committee will also receive help requests f rom flood-hit small businesses and will connect them with the concerned higher authorities. JCCI has also launched the Jeddah People Social Security Committee to help flood v ictims. The committee comprises charity societies, the International Islamic Relief Organization, and the World Assembly of Muslim Youth.
–Okaz/SG
More Videos of the Jeddah Flood: (CLICK HERE)
More Stories of the aftermath, local concerns, worldwide reaction:(CLICK on the story titles below)
Residents do their own safety checks on Misk Lake.pdf
Genesis of the Jeddah tragedy.pdf
Saudi Gazette - History of flood-damaged districts under scrutiny.pdf
Death hole at Kilo 11 holds many bodies.pdf
Middle East Online-WhoWillTryWho-.pdf
Saudi Gazette - 'I lost my life dream in a minute'.pdf
Saudi Gazette - Jeddah Mayoralty failed.pdf
Lack of disaster-management planning led to present crisis.pdf
Flood took life of 3-year-old American girl.pdf
Civil Defense not doing enough, complain families of the missing.pdf
Outpouring of citizen action (Facebook) after flooding.pdf
Saudi Gazette - Al-Basteen's 'lake' may hold more drowned victims.pdf